Why pets love our treats
We make our pet treats from scratch with the intention of offering the most natural, nutritional, and delicious treats out there.
We specialize in all sorts of treats made from livestock raised on open pastures. Our close relationship with our farmers allows us to know that we are only getting the best ingredients and our products are free of preservatives, fillers, or additives.
Our products are made with all natural animal products and contain zero fillers.
Our animals are grass-fed and live happy lives on open pastures.

Our treats are made fresh to eliminate odor and lock in nutrients.
Discover the benefits of healthy cow tails dog treats for weight management. And learn why they are a trustworthy option for your furry friend. Explore...
WholeSale Collection
Discover unbeatable quality and value with our wholesale products - the perfect choice for savvy shoppers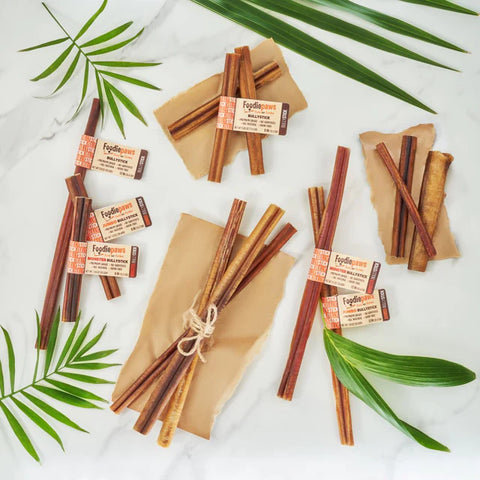 My dogs love this long lasting safe for them bullystick. No strong smell. Good for them, better than rawhide!
Dogs love to chew on these. Keeps them occupied for hours!
These sticks are the best that I have seen in a long time. My Dog loves them. I let him chew on them for about 2-3 hrs and then give him a break from them ... They are ODOR FREE, unlike others that I have thrown away due to the stench. Definitely bearable. Great product and value.

Perfect size for my new puppy and aggressive chewer. Lasted long enough to keep him out of trouble and didn't splinter so no choke hazard. Highly recommend!!
These bully sticks kept my two German Shepherds occupied for quite a while and that's saying something! They obviously loved the taste and wanted more. I don't feed my pups rawhide anymore, so this is a great option and it's NOT made in China. Overall - a great treat for any dog!
Nice quality bully sticks and a good size for large breed dogs. Durable, and a safe chew for the dog that lasts. Definitely would recommend.
I have a 7lbs yorkipoo and she's 5 years old. I decided to give these a try and she loves them! Most of the time she'll finish them in a day or 2. She'll sit and naw at it for hours at a time. It's easy for her to eat and I don't have to worry about splinters like with traditional bones.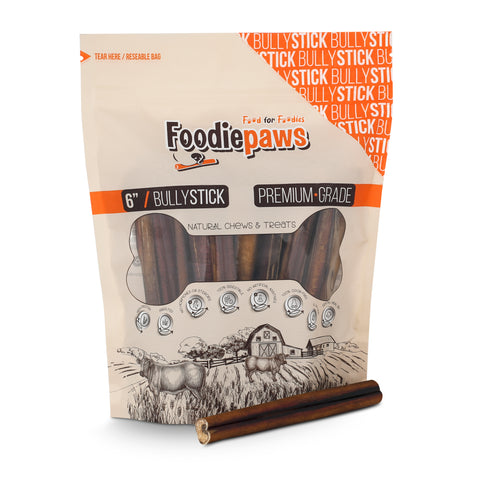 6" Standard Bully Sticks - All Natural Premium Grade, Odor Free